SD-WAN is designed for the worst medium.
We depend on the internet and broadband for out WAN . And you know that quality on the internet is not guaranteed.
However, SD-WAN vendors have found some solution:
They provide statistics like jitter, loss and end to end latency to show the performance of transmission media.
But these SD-WAN measurements are done on the edge devices only, so you get end to end visibility only.
So the questions is;  are the traditional performance measurements from SD-WAN vendors enough?
Gap with existing SD-WAN solutions
Wouldn't it been nice to have more visibility and more "eyes" onto the path.
That is, instead of just end to end statistics, also find out hop by hop behavior for the latency, jitter and loss. So that we know what are the issues in the middle of the cloud, also.
And how about an SD-WAN solution that not only tell us the performance of the network, but correlate it with the web performance ( HTTP, page load) so in case of slow web, we know exactly that the issue is on the server or on the network, thus eliminating any finger pointing between the troubleshooting teams.
Yes, there is a gap in the market that we don't have SD-WAN solutions that give us end to end picture.
However, after attending the Networking Field Day event NFD-12 in San Jose, US, August this year and listening to the presentations of ThousandEyes, I thought, their solution could easily fill that gap. (This event is organized by Tech Field Day, they invite a select group of bloggers from around the world to attend the event.)
Monitoring the internet? Really ?
For those of you who don't know ThousandEyes, it is a startup company from Silicon Valley.
Their innovation is their ability to monitor the "internet".
Yes the public network, we don't control, yet depend a lot on it. With office Apps moving to cloud, internet has become the new WAN these days. We depend it on it for Office365, Salesforce, GoogleApps and countless other Apps that have moved to the cloud from enterprise premises.
But with this dependency. we also run into issues: we are depending on third party ISPs and networks that sometimes span across multiple geographical boundaries; yet, we do not have visibility into the performance of the involved networks. Thousand eyes solves exactly those issues. ThousandEyes monitors BGP routes and can quickly identify issues including local mis-configurations and peering changes. Further, you can see the health of the network by monitoring hop by hop statistics ( router to router span)  for jitter, loss and latency on the networks (Compare that with SD-WAN vendors that do end to end only)
OK! the presentation, ThousandEyes did was not specifically on the SD-WAN topic as they do performance monitoring irrespective, if the underlying network is SD-WAN, pure broadband or even MPLS.
However, the features they showed can be a good fit for SD-WAN market.
It would make sense for the SD-WAN vendors to integrate solutions like ThousandEyes to bridge the gaps which I mentioned earlier.
But how?
So let's see how  ThousandEyes can help SD-WAN solutions in the market.
How ThousandEyes solve SD-WAN market gaps
Use Case 1:
The traditional SD-WAN vendors can give end to end analytics on the performance (jitter, loss, delay) as shown in the diagram below (between sites A and F). Thousandeyes can help with the hop by hop statistics to know the performance of the cloud and help in troubleshooting. If you are using SD-WAN for carrying real time applications like voice, ThousandEyes give possibility of the monitoring voice quality scores like MOS to show how the voice is performing on the best effort links.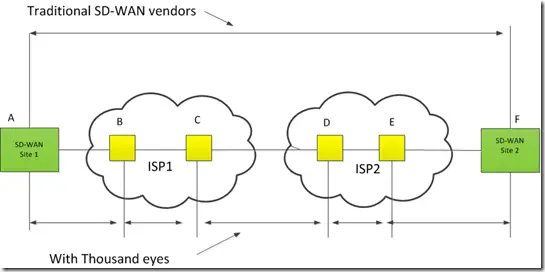 Now why would you need  richer statistics compared to just end to end statistics?
1. If you are an enterprise and run your own SD-WAN solution on site, you may find an issue of the network quality with your ISP, it can help you troubleshoot and escalate specific network issues (for example certain router or a section that has issue) to your ISP. While a traditional SD-WAN would not be able to pinpoint exactly where the problem is. ( but just show that their is a problem)
2. If you an operator and running your own managed SD-WAN solution for your customer, it would help you avoid customer churn and solve network issues on the internet that may be inside your own network or escalate it to your peer partners (even remote ISPs in an end to end service). Thus, fault demarcation becomes a breeze here.
3. In future, such solutions can be extended to help SD-WAN controller switch to alternate path if it finds some sections are creating issues compared to the others
Use Case 2:
Today corporates live and depend on cloud for SAS applications like Office365, Salesforce, and GoogleApps etc. To reduce delay of such traffic, usually enterprises pass such route traffic directly to the internet instead of passing it via their Head office. While the traffic destined for Head office is passed through the MPLS link.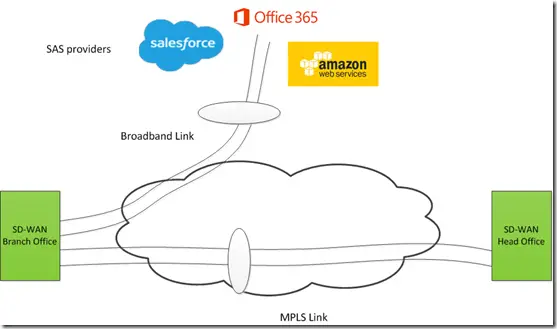 Now in such scenarios, SD-WAN solutions normally offer limited functionality for performance statistics as SD-WAN solutions typically need an SD-WAN appliance at both ends. As ThousandEyes can reach remote servers directly so you can get all the performance statistics for the network as well as higher level performance such as Web and voice quality (MOS).
Thus an analytics solution that can reach directly a server can help you easily isolate issues related to the server or network in SAS scenarios.
PS: You can watch all NFD12 including the one from Thousand eyes at the following link
http://techfieldday.com/event/nfd12/
Conclusion:
As we move to depending more and more on internet, there will be a need to find ways to monitor and troubleshoot the networks we don't control. The need to monitor and troubleshoot the networks beyond our control requires more intelligent and innovative ways as the conventional tools are not able to deliver the results. SD-WAN is reality today. The SD-WAN systems can provide some analytics today but there is a room to offer richer analytics through solutions like ThousandEyes.
Now I don't say that solutions like ThousandEyes would work out of box with the SD-WAN solutions as they may need customization but there is a real value for the SD-WAN solutions to study their product integration with rich analytics providers, filling the gaps mentioned earlier.
So here is an explaratory field  for ThousandEyes and any other analytics provider also. That is to explore and work proactively on how their solution can be integrated with third party SD-WAN vendors. To dive deep into the emerging SD-WAN market as it might open new business  opportunities for these vendors.
So are you an SD-WAN provider or analytics provider?
Or a user for SD-WAN?
Tell me in the comments section below if such rich analytics would help you?
Disclaimer:
Thousand eyes was a presenter during Networking Field Day 12 in San Francisco, CA among many other presenters. As a participant in Networking Field Day 12, my travel and lodging expenses were covered by Tech Field Day ( the organizer)  for the duration of the event. Vendors did not ask for nor were they promised any kind of consideration in writing of this post. My conclusions here represent my own thoughts and opinions.