I was invited as an analyst to attend the NFD-26 event organized by Tech field day featuring networking vendors.
As I listened to different vendors' sessions, one of the presentations that caught my interest was from Juniper regarding their vision on AIOps in networking.
As I work for a service provider, I deliberated on what issues this can solve for a managed service provider (MSP)
Issues facing Managed Service Providers
The Need for end to end "user-centric" assurance
A service provider that provides end to end managed network services faces many challenges:
First, the services have moved out of data centers/enterprise premises to the cloud; this decentralization of services means multiple diverse networks domains exist between the user and services i.e. wireless, wired, and WAN. 
More networks mean, more complex management and difficulty in troubleshooting, should anything go wrong.
For example, a zoom call starts from Wi-Fi, but crosses the wired network and then WAN to reach Zoom servers. Therefore, any issue in any domain can result in poor call quality. This demands a consistent and comprehensive way to troubleshoot, service from its origin to its destination.
Second, the users/enterprises have become more experience-centric which means they are more conscious and demanding from their service providers on the consistent quality of experience. Therefore, MSPs must find ways to find and present the actual user experience to their customers.
Need for AIOps rather than conventional Ops
Let's face it. the networks are far more complex and dispersed today.
The diverse networks, today, generate a lot of data that the conventional Ops tools are not able to handle. An issue that affects a user experience could be a wireless issue. But it might very well be a switch port issue or it may be an issue in the WAN.
Having 360-degree end-to-end network visibility and effective troubleshooting across wireless, wired, and WAN require an altogether different approach during Day 2 operation.
Automating network operations is the key to expedite fault detection and resolution.
Could AIOps come to our rescue?
Perhaps Yes,
But then how many tools in the market offer these capabilities?
Juniper Mist AI fills the gap of the tools needed for end to end network AIOps
As I attended the session on Mist AI from Juniper, I realized that this could be a solution to the problem MSPs face today.
As you can see in the figure, their target is to have end to end AIoPS which is not limited to Just wifi networks but also wired and WAN networks
But that is not all.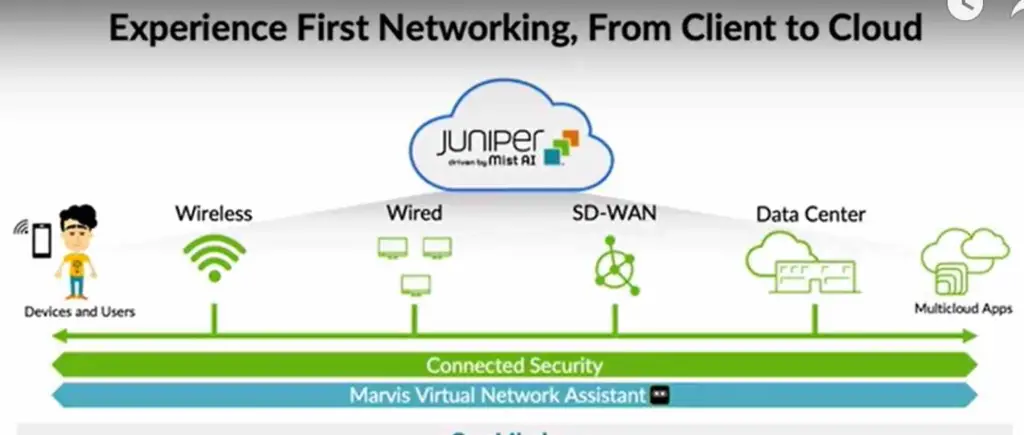 Mist AI focuses on the "User Experience"
AI Mist focuses on providing visibility into the real" user experience". So rather than a typical dashboard that provides network KPIs and faults overview, they go few steps beyond:
Mist AI can collect data from thousands of wireless APs, wired switches, and WAN networks ( Juniper has integrated their SD-WAN routers with Mist AI) and drill down any issues that could affect a single client.
What impressed me was the conversational interface which makes the tool very user-friendly. A user can ask questions like " What is the issue with Bob's connection today?" and it can return answers like " Bob has a wireless issue and here are the steps on how to solve them" The user can ask further questions to drill down and the AI assistant can provider further actionable result and feedback.
Combined with the Mist AI WAN assurance app, the AI tool can provide insights into WAN. This is quite powerful to bring data from multiple different domains including wireless, wired, and WAN under one dashboard. Which in turn enables proactive actions, automated workflows, and actionable insights into network issues from users to the cloud.
Conclusion
In short, Mist AI seems very powerful and brings a different approach to the way Ops can approach the network. Juniper has brought a fresh approach to the way Ops should work today. For the MSP, it can cut on the time of troubleshooting and enable an experience-centric service to its customers rather than a network-centric experience.
Disclaimer:
Juniper was a presenter during Networking Field Day 26, a virtual event organized by Tech Field Day ( Sept14-16). I was invited as an analyst to listen to different vendors' presentations. Vendors did not ask for nor were they promised any kind of consideration in the writing of this post. This is not a sponsored post. My conclusions here represent my own thoughts and opinions.