Looking for Open RAN tutorial ?
What is Open RAN/O-RAN and why it matters for mobile operators and vendors?
In fact, as wireless networks continue to grow, O-RAN is becoming more relevant for Mobile networks.
For one, disaggregation of RAN has remained non-existent. Thanks to a few big vendors' monopoly. The RAN has been largely a closed vendor system.
In fact, Open RAN has taken the Mobile Networks industry by storm and for one reason: It refers to the commoditization and disaggregation of RAN hardware.
There are a lot of tutorials on Open RAN but they miss the point in explaining what problem Open RAN is trying to solve.
Secondly, the tutorials do not tell about what is the 3GPP interfaces versus the O-RAN interfaces.
I will explain this as well as the Open RAN architecture, and all the important terms that you should know.
And I will do it in an easy to follow manner.
But hold on , there is another term-OpenRAN (without space between Open and RAN), and I should clarify it first as it is different than Open RAN ( the one with space)
Open RAN vs OpenRAN
OpenRAN without space is different than Open RAN with space.
In fact, these terms confuse the beginners a lot.
Open RAN, or O-RAN, is the initiative of the O-RAN alliance that aims to define open interfaces of split RAN architecture. The group focuses on the development of open and virtualized interoperable RAN specifications. In this article, we will focus on exactly this topic.
OpenRAN, on the other hand, is a project by Telecom Infra Project that aims at disintegration in the 2G/3G./4G/5G RAN by having multi-vendor interoperable solutions built on general-purpose hardware (COTS).
OpenRAN does not define new Open interfaces but speeds up adoption and deployments through the use of existing open interfaces. In that respect, it works closely with the O-RAN Alliance to re-use their interfaces doing no overlapping work.
Not only O-RAN but it works with the other industry bodies like 3GPP, ONF to facilitate a holistic end-to-end RAN solution. This diagram better summarizes the relation between OpenRAN and O-RAN.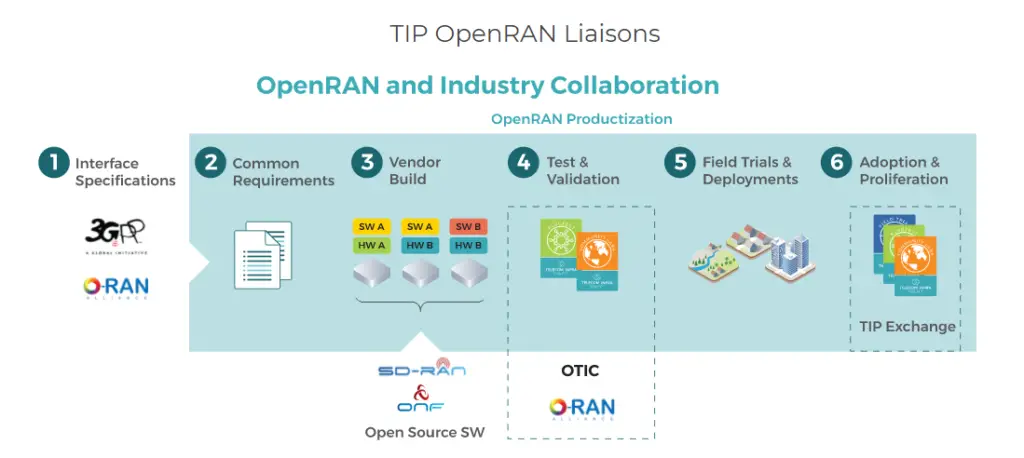 Let's switch gear to Open RAN/O-RAN
So lets discuss the real topic in this article, i.e. Open RAN.
O-RAN ALLIANCE, founded in February 2018 by AT&T, China Mobile, Deutsche Telekom, NTT DOCOMO and Orange. It has been established as a German entity in August 2018.
Here is the charter for Open RAN alliance
The specification effort => new standards for open and intelligent RAN
O-RAN Software Community => open software development for the RAN (in cooperation with the Linux Foundation)
Testing and integration effort => supporting O-RAN member companies in testing and integration of their O-RAN implementation
What Problem Open RAN is trying to solve?
To answer this question, we should first understand the nature of RAN.
Isn't RAN a closed system? In fact, the RAN edge is an example of a perfect vendor lock-in.
Unfortunately, 3GPP has not defined the interface between the radio unit (RRU) and the BBU as shown in the figure. They have left this to the vendors to implement. Consequently, the interface between RRU and BBU is a closed interface ( also called fronthaul)
And guess what!
The mobile operators must buy both RU and from the same vendor.
Yes,
Even if the operator wants to mix and match vendors between the RU and BBU, he cannot do it. (The traditional CPRI interface between RU and DU is still a proprietary interface, although agreed by a few big vendors)
But that's not all.
While fronthaul is the major component, there are other components in RAN as well. For example, the X2 interface between eNodeBs is also a closed interface.
This is even worse.
How ?
As you are aware that in NSA ( Not standalone) 5G uses the same core as 4G but works in coordination with 4G access network using X2 interface. If X2 interface is closed, that means that the 4G and 5G vendor needs to be the same, otherwise they will not inter op. O-RAN alliance is working on making all these interfaces open and standardized.
So the big problem O-RAN is solving is making all these components interoperable so one can mix and match the vendors.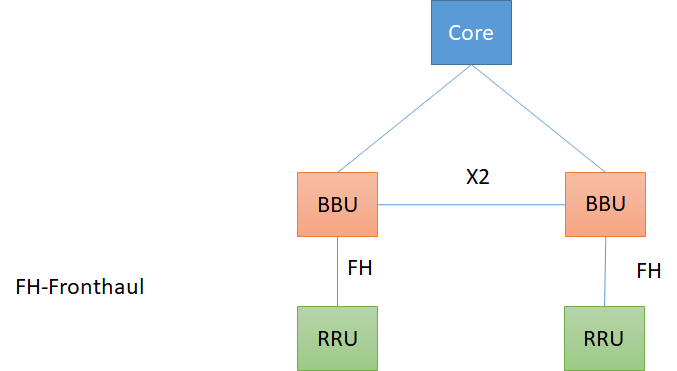 Is Open RAN the same as C-RAN or Virtual RAN (vRAN)?
No, it is more
The debate between Open RAN and Virtual RAN is interesting.
The following diagram summarizes the differences. And I have written this article on what are the differences. In summary, Open RAN is the type of Virtual RAN that uses Open interfaces between RAN components while C-RAN/vRAN does not. We will now study all these components one by one.
I will also recommend to go through the article to understand the role of RU, BBU, DU, CU etc.

Components of Open RAN/ O-RAN ( Open RAN tutorial)
Let's go through the O-RAN architecture. The components are hosted virtually on servers using virtual machines or cloud native technology such as containers.
O-RAN architecture has many components but here is the list of the important ones ( taken from O-RAN specifications) that can serve a cheat sheet
Service Management and Orchestration (SMO)
Non-RT RIC ( Non Real Time RAN Intelligent Controller)
Responsible for the FCAPS of O-RAN network functions. This has an important function called Non-RT RIC, which is used for RAN optimization. Non-RT RIC or Non-real time RIC has the goal of supporting intelligent RAN optimization in Non-real-time (that is greater than one second) by providing policy-based guidance using data analytics and leveraging AI capabilities
Near-RT RIC
Near-RT RIC enables near-time control and optimization of O-RAN nodes ( O-CU AND O-DU). It uses near real-time control loops (i.e. 10 ms to 1 second). Latency is very critical for the Near-RT to take quick decisions. This is in contrast to the Non-RT RIC. Whereas Non-RT RIC can reside far from the Radio Access Network nodes, The Near-RT RIC has to be closer to the RAN nodes owing to the real-time decision functionality.
3GPP Interfaces
3GPP maintains the following interfaces and not O-RAN. Looking closely, the interface from the core network towards the CU and between the CU and DU are the domains of 3GPP. They are already standard and defined by 3GPP. They are already interoperable between the vendors. The O-RAN alliance will not re-work here, as there is no need for that.
•E1 interface
•F1-c interface
•F1-u interface
•NG-c interface
•NG-u interface
•X2-c interface
•X2-u interface
•Xn-c interface
•Xn-u interface
•Uu interface
O-RAN interfaces
O-RAN defines and maintains the following interfaces:
•A1 interface
•O1 interface
•O2 interface
•E2 interface
•Open Fronthaul interface
O-DU
Open DU (Distributed Unit) terminates multiple interfaces, but most importantly the fronthaul interface.
O-DU: O-RAN DU is a logical node hosting RLC/MAC/High-PHY layers based on a lower layer functional split.
O-DU is the most popular component and source of innovation in O-RAN as the interface between O-DU and O-RU which is traditionally a closed one is being standardized through a standard version of eCPRI ( Open fronthaul) so that any two vendors can inter-work here.
O-CU-CP and O-CU-UP
O-CU: O-RAN Central Unit: a logical node hosting RRC, SDAP, and PDCP protocols
In fact, it has a control plane and user plane as follows:
O-CU-CP: O-RAN Central Unit–Control Plane: a logical node hosting the RRC and the control-plane part of the PDCP protocol
O-CU-UP: O-RAN Central Unit–User Plane: a logical node hosting the user-plane part of the PDCP protocol and the SDAP protocol
O-RU
O-RU: O-RAN Radio Unit: a logical node hosting Low-PHY layer and RF processing based on a lower layer functional split.
O1 interface
O1: Interface between management entities in Service Management and Orchestration Framework and O-RAN managed elements, for operation and management, by which FCAPS management, Software management, File management shall be achieved.
O-Cloud
Everything is virtual. Isn't it ? The first question is that where are the virtual functions hosted?
If they are containers, where are the containers deployed? A general name given to the cloud infrastructure is the O-Cloud. It hosts but not limited to O-DU, O-CU-UP, O-CU-UP. The virtualization of the O-RU is for the final study.
Benefits of Open RAN
Reduction in CAPEX
O-RAN can reduce CAPEX through the use of commodity hardware and software. Low-cost white box hardware can reduce the cost of 4G and 5G deployment. It eliminates the vendor lock-in by having multi-vendor interoperable components in the Radio Access Network. This enables a more competitive supplier ecosystem for service providers that can lead to a reduction in CAPEX spending.
Improving Network Efficiency and Intelligence
O-RAN improves network efficiency and performance by leveraging RAN automation. With O-RAN, the status of network resources and performance is continuously monitored and more real-time close loop control loop actions can be taken with less human intervention. O-RAN provides the inherent ability to offer efficient, optimized radio resource management through close loop control and hence can optimize performance and efficiency.
Intelligence is the core principle of O-RAN. The network must be able to operate on its own and continuously learn in order to provide embedded intelligence through the network life cycle.
Increase in Network agility
Thanks to the cloud-native architecture, the software can be easily upgraded without wholesale changes in the network. This also means new services can be rolled out quickly through the introduction of new microservices, thus providing a stepping stone towards agility.
Challenges to Open RAN
Nevertheless, Open RAN has some challenges. Having multiple vendors in the RAN is good, but this would lead to an additional onus on the service provider to play the role of the system integrator or outsource it to another party. In both cases, it's complex to maintain such a heterogenous network or could be costly. Which can lead to OPEX.
Thats all from my side, There has been a lot of innovation in the Edge and Open RAN is one of them. It is time that you learned about this concept very well.
Now its time that you tell me if Open RAN has a future or not.
Referenceshttps://docs.o-ran-sc.org/en/latest/architecture/architecture.html
O-RAN Use Cases and Deployment Scenarios by O-RAN alliance