OK, you have heard enough of these terms perhaps from RAN vendors? C-RAN vs Cloud RAN vs vRAN vs O-RAN in the context of Radio Access Network ( RAN)
However, these terms are not clear to you because everyone out there explains them in a way that is enough to confuse many. The fact is that they are confusing as the terms are similar and there is not a lot of difference in them.
That is where this blog can help to explain these technologies related to RAN architecture. It will settle the explanation of these terms, once for all.
And don't worry, if you don't know what is RRU, BBU, CU, DU, fronthaul, mid haul; I will explain all these terms as we go through.
Radio Access Network has evolved quite a bit, so it's important for you to be aware of all these new terms.
Understanding all this will help in understanding a vendor RAN solution.
C-RAN vs cloud RAN vs vRAN vs O-RAN vs D-RAN (traditional RAN) ? Is it that difficult to understand?
Not exactly, once you understand D-RAN ( traditional RAN), it is easy to understand the rest of them regarding RAN architecture.
Lets go step by step to understand D-RAN ( traditional RAN) first and then moving to other types
The following diagram summarizes the differences but we will explain it in a moment.

What is D-RAN ( traditional RAN) ?
D-RAN stands for "Distributed RAN"
The diagram below shows distributed RAN. The RRU and BBU are co-located at every cell site. Each cell site with all its radio functions are distributed and connected back to the core network through backhaul.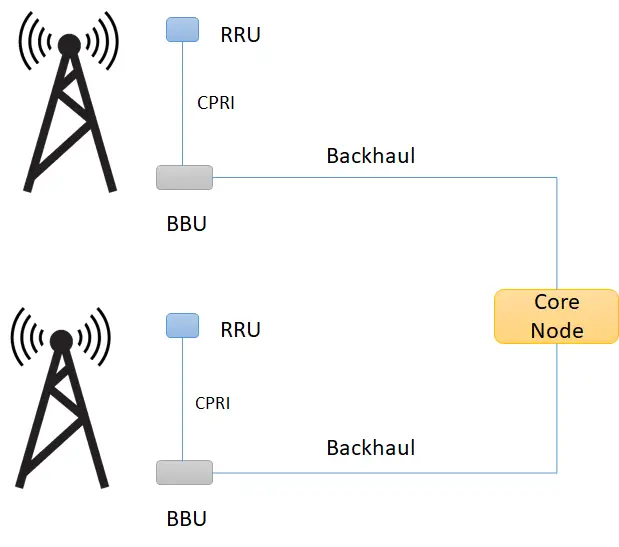 What is it ?
BBU: Baseband unit. Manages the whole base station, including operating/maintenance and signaling processing. It decides the "CAPACITY" of the system.
RRU: Remote Radio unit interfaces with an antenna on one end and BBU on the other. It connects to BBU through CPRI interface and converts RF signal into data signal and vice versa. Further, it does filtering and amplification of RF signal. In fact, it decides the "COVERAGE" of the system" 
Antenna: It interfaces a cell phone wirelessly and transmits/receives RF signal. It decides the "SHAPE" of the coverage.
Reference: ITU-T
What is C-RAN / Cloud RAN
C-RAN (Also CRAN) stands for Centralized RAN or Cloud RAN. In fact, I have seen the industry uses these terms interchangeably.
In C-RAN (Cloud RAN) the BBU moves to a centralized location and the cell site only has the antenna and the RRU. This centralization of BBU functionality (also called BBU pool) results in the name centralized RAN or C-RAN.
This results in a new interface called fronthaul, which is between the RRU and BBU pool. The benefits of C-RAN includes CAPEX and OPEX reduction as deployment and maintenance cost per cell site are reduced because of BBUs centralization. In addition, it improves spectral efficiency and reduces inter channel interferences, as centralized BBUs can share the resources dynamically among the multiple RRUs. The inter-channel interference is eased because of the joint scheduling and processing.
In addition, a second option of the centralized RAN architecture has a further split in BBUs into DU and CU. Here, CU is further towards the core network resulting in a new interface called midhaul.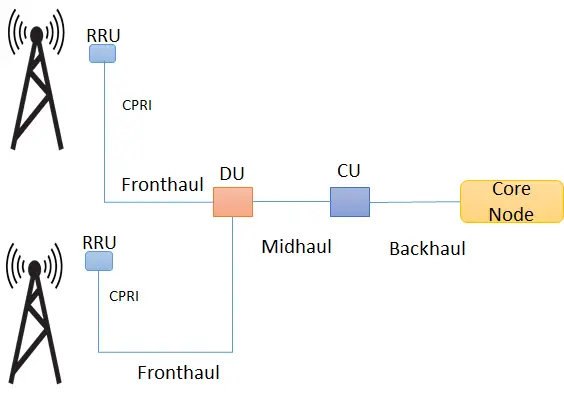 What is it ?
Fronthaul Fronthaul is the link between RRU and BBU (or RRU and DU). It has a strict latency requirements of 100 to 250 µs (one way)
Midhaul: Midhaul is the link between DU and CU.. Midhaul has relaxed latency requirements, which means we can place CU further closer to the core node.
DU: Distributed runs the RLC, MAC, and parts of the PHY layer. We normally place DU closer to RRU.
CU: Centralized Unit handles the RRC and PDCP layers (and SDAP in case of 5G) . One CU can connect to multiple DUs, CU can be co-located with DU or far from DU.
What is vRAN or Virtual RAN?
vRAN decouples the software from Hardware by virtualizing Network Functions. It uses virtualization technologies such as NFV or containers to deploy CU and DU over x86 server. (or virtual BBU on a server). This is like running Functions in software.
So there is no difference between vRAN and C-RAN except that traditionally C-RAN uses proprietary hardware while vRAN uses Network Functions on the server platform. vRAN is infact a type of C-RAN.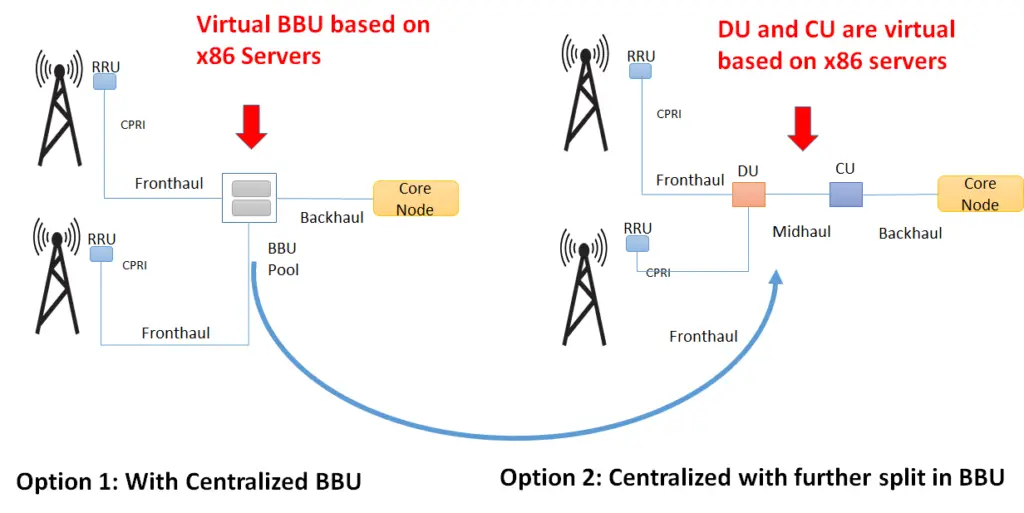 Because of vRAN HW/SW decoupling flexibility, we can achieve scalability. This can cause a decrease in hardware costs and application agility as application can be upgraded easily or swapped altogether (which is not easier with traditional hardware).
However, vRAN puts servers to new limits because of the performance expectation. There has been quite an innovation on enhancing server platform to meet the performance needs of vRAN.
What is O-RAN or Open RAN?
Open RAN/O-RAN (from O-RAN alliance) takes vRAN to the next level. While traditionally vRAN is a closed network, as RU, DU and CU, which are all part of the RAN must be bought from the same vendor.
The O-RAN alliance is working on specifications to open the interface between RRU and DU and further between DU and CU. This means that a customer can mix and match the components from different vendors without being locked to one vendor for all these three components, thus resulting in an open RAN network.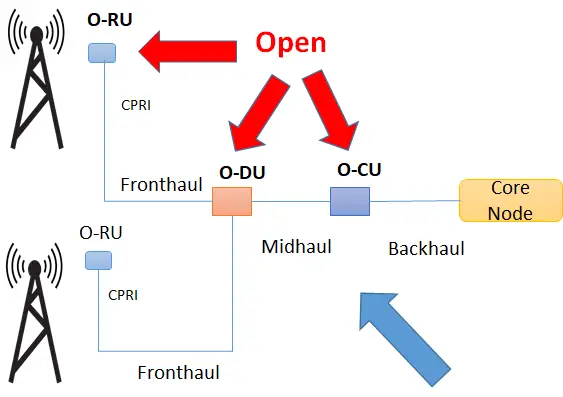 These new open components as per O-RAN alliance's specs are called O-RU, O-DU and O-CU (where O stands for Open) which is actually a modular base station software stack on off-the-shelf server hardware.
So that's it about the different between C-RAN , V-RAN and O-RAN. Hopefully, with this you will easily understand a vendor's solution and also give you an insight on how Radio Access Networks have evolved over the time. Let me know in the comments if the concept is clear to you?