Having knowledge about NFV without understanding how Network Services/ VNF Forwarding Graphs are created, is like owning a car without knowing how to drive it.
"Network Service" (NS) holds importance in NFV as in the majority of cases, VNFs connect with one another to create services instead of working alone. Also, VNFs connect to create "VNF Forwarding Graphs"( VNF-FG).
So what is the difference between NS and VNF-FG?
But before that, why bother knowing about them?
Actually, they are important.
Take "Network Service" for example:
Network service ( NS) is what enables VNFs to combine and create many more functionalities which they are not able to do alone, NS is what an Orchestration system orchestrates.
And if you ever wonder how SDN plays in NFV environment, you must first understand how VNFs network with one another to create Network Services and VNF Forwarding Graphs.
Honestly, the information out there teaches you Network Service in a not very friendly manner. More specifically, in a Top-Down approach: starting from Network service and then going deeper.
This can become quite complex for a new learner.
On the other hand, I have concluded that the best way to teach Network Service and VNF-FG is not to start with them but rather build from their basic components and then lead to them.
This article does exactly that:
Virtual Links
Below, you will see, three VNFs that need to connect to one another. Let us assume that these three VNFs are components of a Mobile Core network of an operator with each having different role (Understanding their role is not important here)

The first step is to create virtual links between the three VNFs.
Usually, a virtualization layer (hypervisor) will abstract the hardware resources under it enabling the VNFs to connect through virtual links, as shown below. Now why they are called virtual is because you do not see them, physical.
One simple example is that two VNFs might be present in one server and connect internally through a virtual link which you do not see.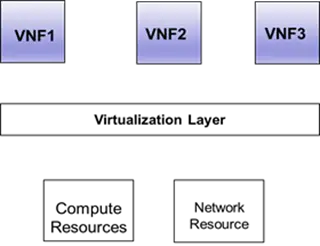 Now you can see multiple virtual links between the VNFs. The virtual connectivity may be based on Layer 2 topology, for example, MEF E-Line, E-LAN or E-Tree services.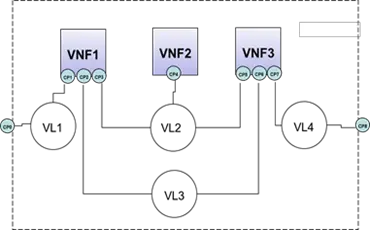 Network Forwarding Path( NFP)
The next important concept is the Network Forwarding Path. Network Forwarding Path shows the path for the actual traffic flows on the virtual links.
Let's say that in mobile core case, there is two kinds of traffic: Control Traffic and User Traffic.
In the following case, then, the Control traffic has furthur two paths and the User traffic has just one path:
NFP1- Forwarding path for "control traffic" that needs to pass through VNF1, VNF2, and VNF3 and uses VL2
NFP2- Forwarding path for "control traffic" that needs to pass through VNF1 and VNF3 (but not VNF2) but still uses VL2 (because of applying some policy that restricts it from VNF2)
NFP3- Forwarding path for "user traffic" that needs to pass through VNF1 and VNF3 but need to utilize VL3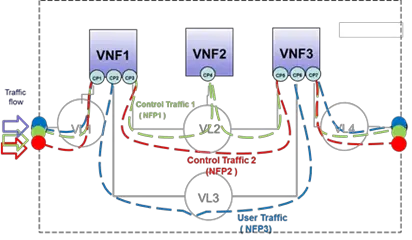 VNF Forwarding Graph (VNF-FG)
Next very important concept is that of VNF Forwarding Graph (VNF-FG)
In the current example, the Control traffic will make one VNF-Forwarding Graph (VNF-FG) and the User traffic will make another VNF-FG. Think of forwarding paths as subsets of the VNF-FG. That is, one VNF-FG can have multiple forwarding paths.
The VNF-FG shows the graph of logical links connecting VNF nodes for the purpose of describing the traffic flow between these VNFs. In our case, there will be two different VNF-FGs owing to the involvement of different virtual links between the two paths.
VNF-FG1- VNF Forwarding Graph for  Control Traffic
VNF-FG2-VNF Forwarding Graph for user traffic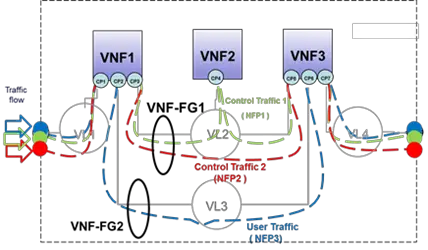 Network Service (NS)
Once you grab the concept of NFP and VNF-FG, the concept of Network Service becomes very easy.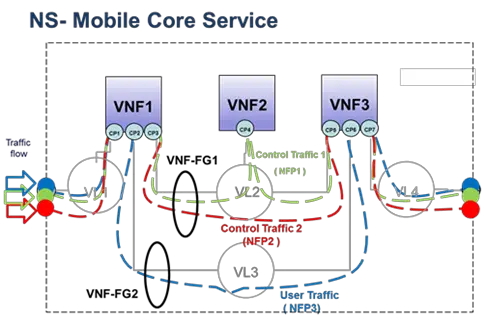 Think of Network Service as a layer above VNF-FG.
By definition, Network Service is a combination of the behavior of its constituent functional blocks, which can include individual VNFs, VNF Forwarding Graphs, and/or the infrastructure network.
Note!  we are not just talking about the combination of certain VNFs but we are talking about a defined behavior from connecting certain VNFs together.
And the best way to know if a combination of VNFs forms a Network Service is to find out whether they have a Network Service Descriptor (NSD) associated with them. NSD template describes the deployment of network service including service topology (constituents VNFs, a virtual link, VNFFG) and associated service characteristics such as SLA.
Two or more Network Services can be combined to provide an end to end service like the following E2E service by combining Mobile RAN service with Mobile Core service.

So that's it and here is the key takeaway from this blog and you should not forget:
Key Takeaway:
· E2E service is a combination of Network services.
· Network Service is a combination of VNF-FGs.
· VNF-FG is a combination of NFPs.
Question: Tell me your comments about anything in this blog. Did you find the concept of Network service and VNF-FG easy with the way it is described here? Please comment below.